Vacation Ownership at Hope Lake Lodge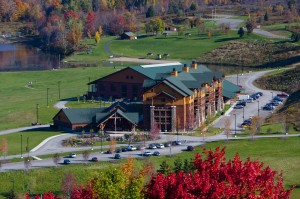 Share the Experience. Own the dream…with a second home at Hope Lake Lodge at Greek Peak Mountain Resort. Full and unique fractional ownership opportunities are available. The concept of fractional ownership uses the best aspects of timeshare – ease of ownership, flexibility and vacation exchange and combines them with the best aspects of traditional second home ownership such as legally deeded property and the certainty of how you will spend your vacation time in the coming years.
Whether you choose to stay at Hope Lake Lodge or use RCI Vacation Exchange for vacations at nearly 5,000 other resorts in 100 different countries, ownership will provide you with the experiences you and your family richly deserve. Hope Lake Lodge has been designated as a Gold Crown Resort, RCI's highest rating!
Vacation Ownership allows you to own a fully deeded hotel unit at Hope Lake Lodge. Ownership options available now are whole ownership and quarter share (13 weeks), with weeks on a pre-determined schedule on a rotating basis.
To speak with a Real Estate representative, call (800)-955-2754. Press 8 and follow prompts to ext. 6109.
Benefits of Ownership:
Optional Rental Program. This program allows an owner to rent any or all of their time and receive sixty percent of the rental income generated. Simply let us know of any time you won't be using personally, and we will place it for rent to the general public.

Space Available Program. This allows owners to stay at the Hope Lake Lodge even when it's not their ownership week. Owners can simply call, 48 hours or less prior to the desired stay, and if occupancy is under 85% owners stay in a similar unit as their own by just paying the housekeeping fee. These reservations are limited to your immediate family.

Trade to Vacation*. This allows owners worldwide vacation opportunities through RCI (Resort Condominiums International). Ownership allows your dreams to become reality as you can trade to nearly 5,000 resorts worldwide!

* Additional fees apply