DOWNHILL MOUNTAIN BIKING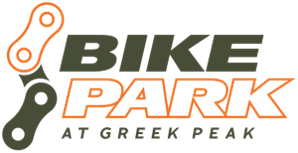 The Bike Park has closed for the 2022 season. Thank you for enjoying another great year with us & we look forward to seeing you next summer!!
There is no greater thrill than Downhill Mountain Biking at Greek Peak's Bike Park! With 18 different trails (and counting!), the Bike Park has a full day's worth of fun for all skill levels. The Visions Quad chairlift will bring you and your bike to the top of the mountain in no time.

Bike Park trails vary in difficulty level, rated Green, Blue, Black & Double Black as ski & ride trails do during the winter season. Green trails are scenic & less steep to cater to folks just starting out in the sport. Blue trails are for more intermediate riders who want to challenge themselves through more technical terrain & take on small features. Black & Double Black trails are for Expert riders looking to take on much more technical riding, large jumps, wooden features, gaps, etc. Not all features on Black and Double Black trails are able to be bypassed.
Trail Map (2023 revision coming soon)
Check out what we've been up to!
New trails: Flow N' Steady & Asclepius

Re-routed existing trails: Pipecutter (crosses Trojan and enters Labyrinth glades)

Remember to pre-ride & re-ride before you free-ride all trails!

MTB Lift tickets now use GoPass RFID Media. They can be easily purchased online and collected at outdoor pickup boxes allowing you to head directly to the lift. GoPasses can be easily reloaded online throughout the season!

Base Camp has moved! We now use the Guest Services window in the Katalima (main base area) building for Lift Tickets, Season Passes & SkyTour tickets. Mountain Top Bicycles will continue to offer rentals & service in the new MTB Base Camp (known as the ski shop during the winter season).
A few things to help you adrenaline seekers have an enjoyable visit:
Helmets required, full face helmets highly recommended
Full suspension bikes are highly recommended
Pre-ride & re-ride before you free-ride all trails
Ride within your ability level
Do not take rest breaks in the middle of the trail
Child carriers, trailers, etc. are not permitted
Hiking is not permitted on the mountain
Uphill traffic is not permitted
Outside of operating hours, the mountain is a restricted area
2023 Season Opening Day TBD
2022 operated June 4 – October 9
2023 tentative end of May – October 8
Refer to our resort Hours of Operation page for up to date info during season
PRICING (2023 Rates TBD)
Bike Park Season Pass:
$305/person
Daily Lift Ticket:
Fridays (late May through mid-August)
$25/person/day
Saturdays & Sundays (late May through mid-October)
*Closed for special events including Land Rover & Ditch Banger*
$40/person/day
*$5 GoPass purchase required for all Lift tickets – keep the card for your next visit, it's reloadable for the season!
*Final MTB & SkyTour tickets will be sold/issued for the day 1 hour prior to closing time.
If you will be visiting for multiple days, avoid purchasing multiple GoPasses! Buy your first day pass in a stand alone transaction. Subsequent visits can be easily reloaded online to the same card!
Friendly reminders:
Buy your ski area season pass in the spring preceding the mountain bike season, not only to take advantage of the lowest early rates but also to enjoy the Bike Park access benefit during the summer. All Ski Season Pass products expire at the conclusion of the Ski Season. Summer 2023 Bike Park access requires a 2023/2024 Ski area Season Pass, a 2023 Bike Park Season pass or a daily lift ticket.
Bike Park & Ski area season passes can be picked up at the Guest Services window 7 days/week beginning in late May 9:30am-4:30pm. Avoid the lines on opening day and head straight to the lift with your GoPass. Riders may need to complete waivers upon pick-up (riders under 18 require guardian signature).
Sharing a GoPass is considered theft of services. Passes can be revoked without refund for anyone caught in this circumstance. Ticket sales support the operation and allow us to grow our trail system and facilitate improvements. Don't be "that guy."
Lessons (2023 rate & availability TBD)
Fridays at 5pm | Saturday at 11am | Sunday at 11am
$25/person (1hr session)
Not quite ready to go all in? Schedule a lesson with a member of our Bike Patrol! Lessons are conducted daily & cover beginner basics such as body position, speed control, braking technique, etc to help boost your confidence before tackling the trails. Lessons are approximately 1 hr long. Reservations are HIGHLY recommended to monitor maximum capacities. Please arrive early for check in.
Forget your helmet? Bike out of commission? No worries, we've got you covered! Equipment is available for rental at the base of the mountain including Full Suspension Downhill Mountain Bikes and Full Face Helmets as well as knee & elbow padding. Rentals are provided by our friends at Mountain Top Bicycles and are available on a first-come, first-served basis. Please arrive early to secure your ride for the day!  MTB Base Camp also offers mechanic service (rates vary) to get you back on the mountain & offers a variety of retail items for sale!
(2023 rates TBD)
Downhill Bike Rentals
$120/day + tax
Full Face Helmet
$20/day + tax
Knee Pads/Elbow Pads/Body Armor
Rates vary
RACE DATES (2023 schedule TBD)
Shred2Cure
Hosted by CNY Freeride
TBD mid-September – trail TBD
Visit their website for details.
SkyTour (Scenic Chairlift Ride) (2023 rate TBD)
1 Ride $10/person (Ages 3-6 Free – MUST be 38″ tall)
Looking for a casual ride with gorgeous views of the resort and the Virgil Valley? The SkyTour Chairlift ride is just what you need! Simply purchase your tickets at MTB Base Camp and our lift operators will load you onto the ride. At the top of the mountain, you can hop off and take in the scenery before jumping back on board for the ride down. For your safety, hiking is not permitted on the mountain. Children must be able to sit upright without assistance and cannot be held by another rider. The use of baby carriers of any kind is prohibited.
ASSUMPTION OF RISK (2023 forms required)
Bike Park Assumption of Risk  required for participation. Please complete one form for each person per season. Participants under 18 years old require Parent/Guardian signature. SkyTour & MTB Access are all covered under the same waiver.
If picking up your 2023-24 Ski Area Season Pass to take advantage of the Bike Park access benefit, please also complete the Season Pass Assumption of Risk
All current State & Federal COVID Regulations apply for all visitors.
Cross-Country Mountain Bike Rental Prices
If you are not ready to take on the Bike Park's downhill trails, Greek Peak's network of cross-country trails is great for both intermediate and advanced riders looking to get off the beaten path. Ascend through the forest of beautiful Central New York at Hope Lake Park on meandering scenic trails that will get your heart pumping and keep you biking for hours
Cross-Country mountain bikes are available to rent at the Adventure Center 1856 NYS Route 392 from late May to mid-October. See Hours of Operation for specific details. These are not available for use at the Downhill Mountain Bike Park. Visit the Adventure Center page for more information
Cross-Country Biking is not available on the mountain at any time
INCLEMENT WEATHER/CANCELLATION POLICY
The Bike Park is an outdoor facility and will operate as usual in rain and shine. However, we may be required to delay or shut down operations due to high winds, thunder, lightning, or other dangerous weather conditions. Guests will be safely returned to the base building to wait for conditions to clear up.
If the area is closed completely for the remainder of the business day or if the delay lasts more than 1 hour, the following can be considered:
No refunds will be issued
Rain checks can be issued at the discretion of the Manager on Duty depending on how much of a given activity was completed
The same policy applies if you are dissatisfied with the conditions of the Bike Park
In the event you wish to cancel a reservation (aka pre-purchased tickets), a rain check valid for one year will be issued for the equivalent pass(es). Refunds will not be granted.