PLAN YOUR STAY AT GREEK PEAK
Hope Lake Lodge is the heart of the resort. You'll find it nestled in-between our ski mountain and Hope Lake Park with panoramic views of each. We provide cozy, Adirondack style accommodations including anything from traditional style hotel rooms with two beds to condominium-style suites. Hope Lake Lodge has 5 floors and offers 9 different suite styles perfect for any type of occasion. We have 105 different suites sleeping anywhere from 2 to 4 people to 6, 8 or 10 individuals. Each of our suites comes with fully a equipped kitchen, the relaxing comfort of spa quality mattress, complimentary pool and hot tub access, and in-room refreshments. Some of our suites have separate bedrooms or semi-private loft areas and some even offer the warmth of your very own fireplace. Whether traveling for work or with family the convenience of being able to have a full kitchen and separate sleeping accommodations is a luxury you didn't know you needed.
Hope Lake Lodge offers a fitness center, two different conference room areas, Carvers Steakhouse, Bobcat Lounge, Waterfalls Spa, Gift Shop complete with Starbucks, Cascades Indoor Waterpark, Starlight Arcade, Bearfoot Den Childrens Activity Center, Disc Golf Course and Concierge Services.
---
Our attentive and experienced staff are here to help make your stay comfortable and memorable! Book online or call: 1-800-955-2754.
---
For Kids
Bearfoot Den
The Bearfoot Den is stocked full of creative craft ideas, make your own Hope Lake Lodge Souvenirs, Games and Toys! We get excited about holidays and plan holiday parties in the Den for all guest children and families. The Den is open every weekend on Friday, Saturday and Sunday. Stop by to learn about what other activities the entire family can take part in, like hiking, yoga, and biking!
Please note: All children under the age of 16 visiting the Bear Foot Den must be accompanied by an adult or responsible family member who is at least 16 years old. Some crafts and activities are free, and others can be purchased for a fee.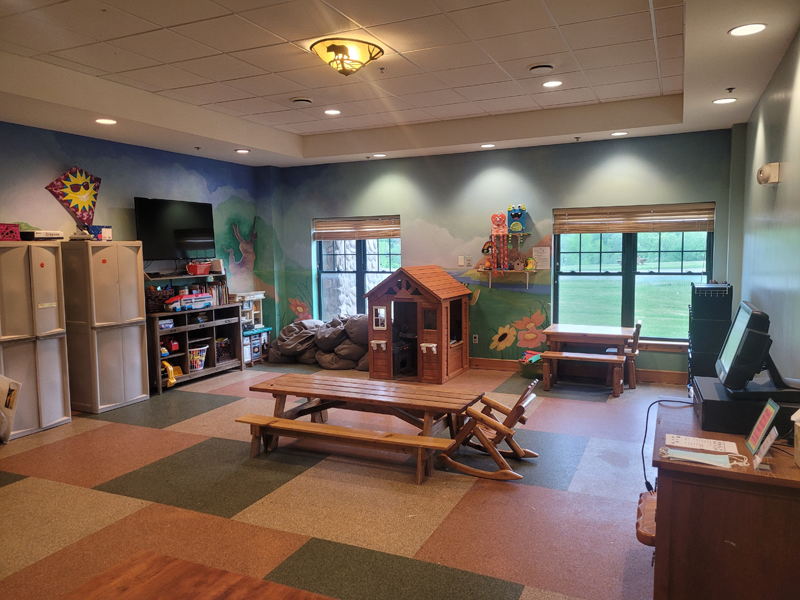 ---
---