PLAN YOUR STAY AT GREEK PEAK
Make a reservation today for your families' next four-star, four-season vacation experience at Greek Peak Mountain Resort. Conveniently located in the picturesque Finger Lakes Region, in Upstate New York, Greek Peak truly has something for everyone. Our central location is just a short drive from many metro areas like NYC, Philadelphia, New Jersey, Harrisburg, Toronto, Rochester, and Buffalo. Getting here is easier than you think. During the Covid-19 pandemic please check on travel restrictions if you are coming outside of New York.

Across the street from Greek Peak Mountain is Hope Lake Lodge, a luxurious hotel with 151 luxury condominium-style suites. Each suite is complete with fully equipped kitchens, the relaxing comfort of spa quality mattresses, and the warmth of your very own fireplace.
First-timers to Greek Peak will find a mountain that has ample terrain suited to every ski and snowboarder's ability and interest. If you're interested in lessons, Greek Peak's expert staff of over 200 professionals assure a comfortable learning environment and instruction set at your own pace and on the terrain that's right for you. Don't own your own equipment? Greek Peak's Rental Shop offers the latest in skis, snowboards, ski blades, and high-performance demos.
For Kids
Bearfoot Den
The Bearfoot Den is stocked full of creative craft ideas, make your own Hope Lake Lodge Souvenirs, Games and Toys! We get excited about holidays and plan holiday parties in the Den for all guest children and families. The Den is open every weekend on Friday, Saturday and Sunday. Stop by to learn about what other activities the entire family can take part in, like hiking, yoga, and biking!
Please note: All children under the age of 16 visiting the Bear Foot Den must be accompanied by an adult or responsible family member who is at least 16 years old. Some crafts and activities are free, and others can be purchased for a fee.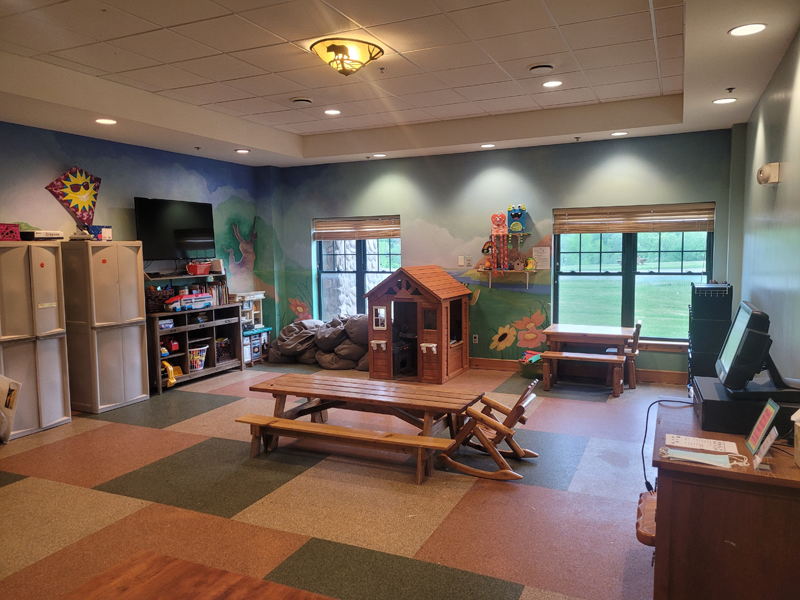 ---
---