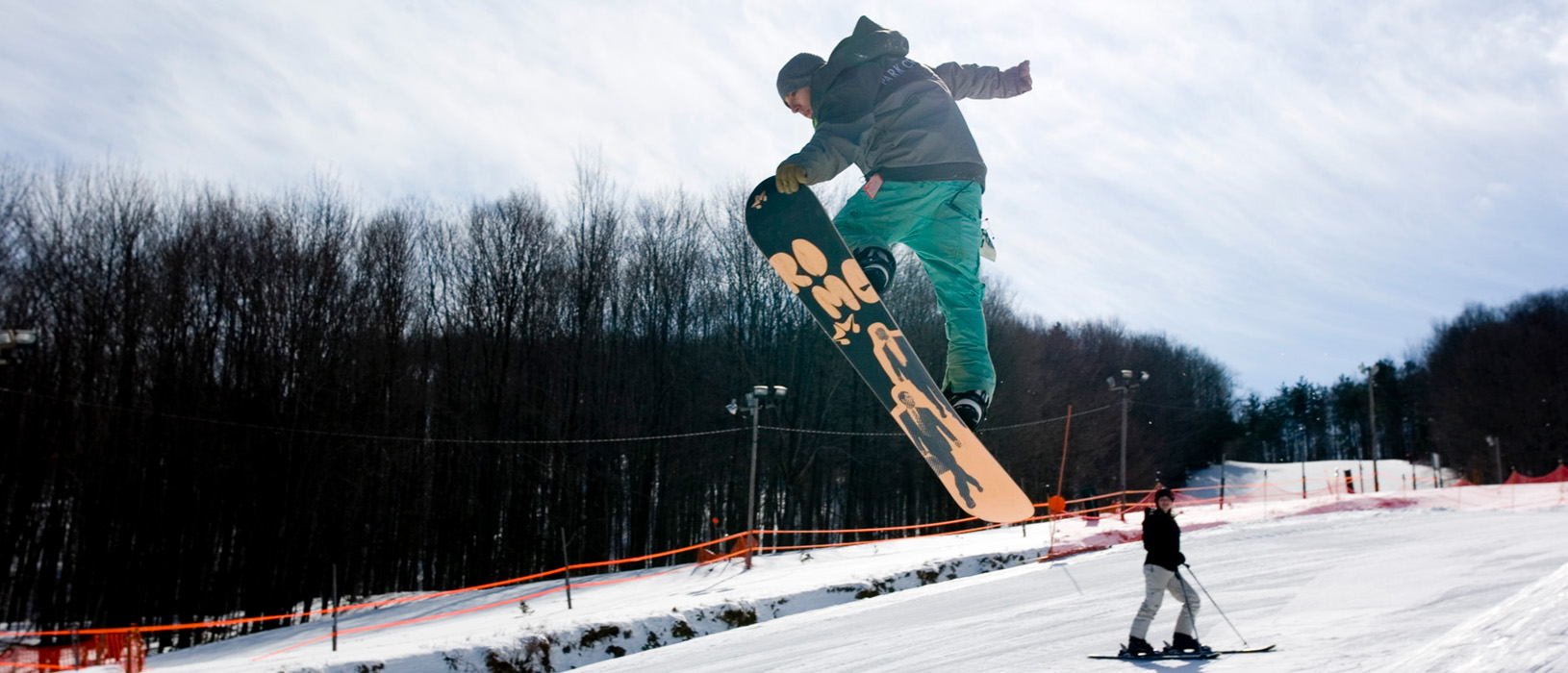 COLLEGE CREDIT PROGRAMS
Are you a winter sports enthusiast looking to hit the slopes and master the art of skiing or snowboarding? Look no further! Greek Peak offers an exciting range of physical education courses dedicated to helping you conquer the world of snow and mountains. Whether you're a seasoned pro or a complete beginner, our programs cater to all skill levels.
Why Choose Our Skiing and Snowboarding Courses?
Expert Instructors: Our courses are led by certified and experienced instructors who are passionate about winter sports. They will guide you through every step of your skiing and snowboarding journey, ensuring you build strong fundamentals and improve your technique.
Convenient Facilities: We provide you with easy-to-understand ski and snowboard rental services, practice slopes, and access to cutting-edge equipment, to offer the best learning experience possible.
Safety First: Your safety is our top priority. Our instructors place a strong emphasis on safety and teach you how to navigate the slopes with confidence.
Diverse Courses: We offer a variety of courses that cater to different skill levels, from introductory classes for beginners to advanced training for expert riders. You can choose the course that suits your needs and aspirations.
Affordable Options: Our college program is committed to making skiing and snowboarding accessible to all students. We offer competitive pricing and rental options, ensuring that your passion for winter sports doesn't break the bank.
What to Expect in Our Courses
Our skiing and snowboarding courses provide a comprehensive learning experience. Here's a glimpse of what you can expect:
Skill Development: Whether you're starting from scratch or looking to refine your technique, our courses cover the fundamentals and advanced skills necessary to excel in skiing and snowboarding.
On-Mountain Experience: The majority of your learning will take place on the slopes, where you'll gain valuable hands-on experience. This includes practicing turns, carving, and exploring various types of terrain.
Theory and Safety: Understanding the theory behind snow sports and safety measures is crucial. Our courses include classroom sessions where you'll learn about mountain safety, equipment maintenance, and more.
Networking and Fun: Beyond skill development, you'll have the opportunity to connect with fellow students who share your passion for skiing and snowboarding. We believe in creating a community of winter sports enthusiasts.
How do I choose a skill level for the course?
When signing up you will be asked to rate your experience on skis or snowboard. Here's an easy way to rate yourself:
Never Ever (Level 1) – this level is for those who have never tried skiing or snowboarding.
Beginner (Level 2) – this level is for those who have skied or snowboarded before, are able to get on and off a chairlift and are comfortable on green circle (easy) trails.
Intermediate (Level 3) – this level is for those who can link turns but still moderate speed and are comfortable with blue square (intermediate) trails.
Advanced (Level 4) – this level is for those that ski/board with good technique on all terrain and snow conditions and can ski black diamond trails with confidence using carved turns.
Expert/Instructor Development (Level 5) – this course is for advanced level skiers and boarders interested in teaching skiing or snowboarding. Ski & Ride School policies and procedures, progressions in learning and teaching skills are some of the areas that will be covered.
Join Us Today!
Don't miss the chance to embark on an unforgettable journey into the world of skiing and snowboarding. Our college physical education courses are your gateway to mastering these exciting winter sports. Whether you're an adrenaline junkie or simply looking for a new way to stay active during the winter months, our courses are the perfect choice.
Ready to hit the slopes? Contact us today to learn more about course availability, pricing, and how to enroll. Your snowy adventure awaits at Greek Peak.
Phone: 888-974-8024
Email: Molli Rainbow (College Programs Director)
Participating Colleges:
---