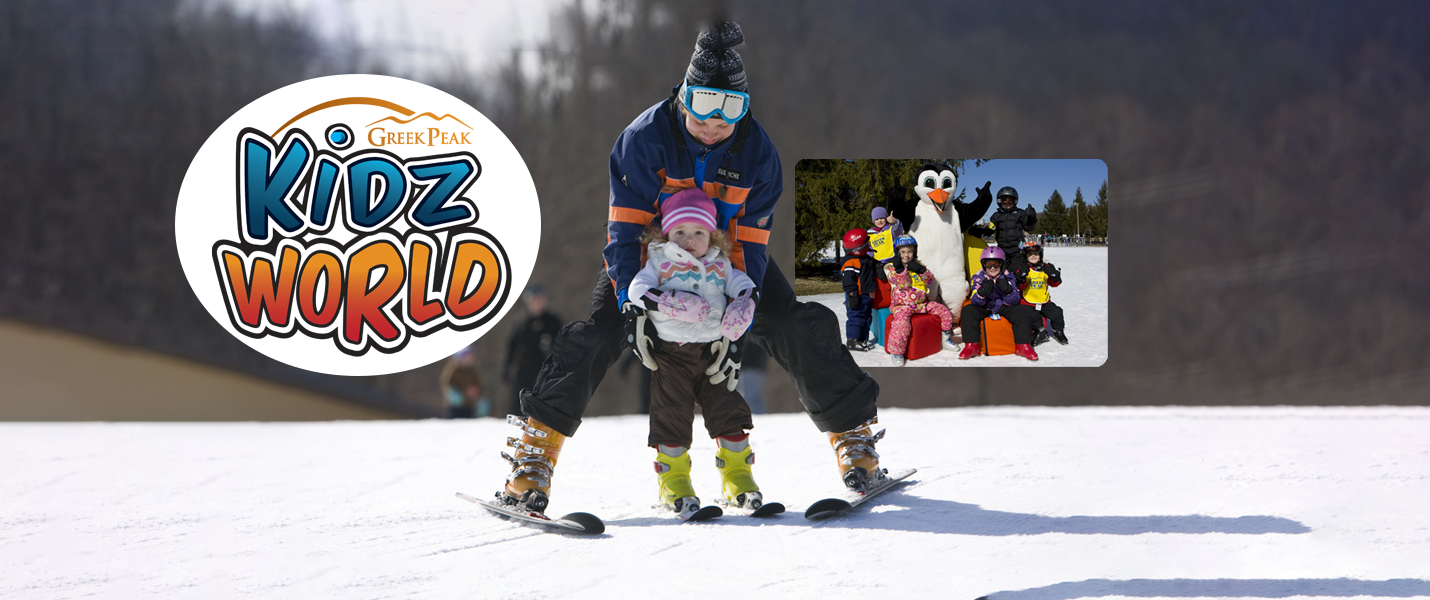 KIDZ WORLD IS THE PLACE TO BE!
Kidz World
Ignite your child's love for playing on the snow with classes designed around fun and adventure! Our instructors are specially trained in teaching skiing and snowboarding to children, including the specific needs and developmental stages of different age groups. We focus on safety, fun and learning with the goal of creating a supportive and enjoyable environment which will instill a lifelong love of snow sports in your child. Lessons are taught at an age- and skill-appropriate level for your child, building skills through drills and progressions, and transferring those skills to actual skiing and riding. For ages 5-14.
Lesson Times (Daily)
Lift Tickets
Rentals
Price
Half Day
9:30am – 12:00pm
1:00pm – 3:30pm
All mountain included
Additional $22
$99
Full Day
9:30am – 3:30pm
All mountain included
Additional $22
$174
Additional details:
Full day sessions are 9:30am – 12:00pm and 1:00pm – 3:30pm with an hour lunch break parents must pick child up for.
Kidz World programs operates out of the Kidz World log building located across the main bridge from the parking lot on weekends and holiday weeks. Operating out of the Rental Shop on non-holiday weekdays.
Parents should check their child in approximately 30 minutes before lessons start.
For more information please call: 844-847-2856.
Mountaineer Ski Club NEW!
Our Mountaineer Ski Club is an 8 week program for 7 to 14 year-old skiers designed to build skills while exploring the entire mountain. Experience all the mountain terrain fun including glades, moguls, gates, and freestyle with the same instructor each week. Enjoy your own clubhouse! The Club meets on Saturdays or Sundays from January 7 through March 5 (except Pres. Day weekend) and pre-registration is required.
Lesson Times
Lesson Duration
Lift Tickets
Rentals
Price
Saturday or Sunday: 9am – 1pm
4 hours
$49/day for non-season pass holders
Included for season pass holders
Included
$712
$320 for season pass holders
Additional details:
Space is limited. Pre-registration is required. Our 2023 Mountaineer Club is currently full. To get on next season's list, or if you have questions, send us an email.
One time 20% discount in the ski shop for those that sign up early.
Minimum requirement: must be able to ride chairlift alone and ski all greens from top of the mountain.
No switching or make up dates. Must choose either Saturdays or Sundays to attend.
Skiers are grouped by age and ability level. Skiers younger than 7 may be allowed following a skills assessment by one of our coaches.
Questions? Call 844-847-2856.
Reserve your spot today by purchasing and scheduling online!