CASCADES INDOOR WATERPARK!
MAKE A SPLASH WITH PERFECT 84° WEATHER YEAR-ROUND
Cascades Indoor Waterpark is attached to Hope Lake Lodge and provides activities for all ages and swimming abilities. The whole family will find something to love!
Cascades Indoor Waterpark maintains a maximum occupancy in order to provide a safe recreational experience for you and your family and does sell out during busy weekends and holiday periods.
Tickets may be purchased online or by calling 855-950-7233.
---
HOURS OF OPERATION
Operating days/times vary – click here for details
---
Attractions
Whitewater Wave Pool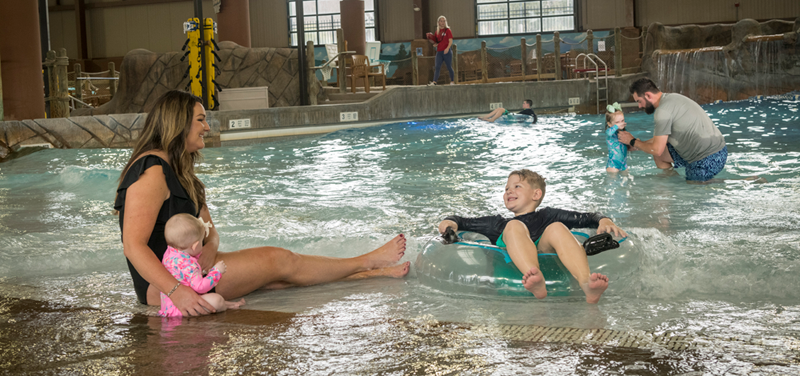 Experience the force of a true Adirondack Whitewater adventure! With over 67,000 gallons of water, all fed by a raging 30 ft. wide, 13 ft. tall waterfall, this is your place for pure water excitement! Guests under 42″ tall must wear a life jacket. Life jackets are available free of charge. No outside flotation devices are permitted.
The Rapids Waterslides
Think you have what it takes to tackle The Rapids? Cascades has 4 water slides to choose from.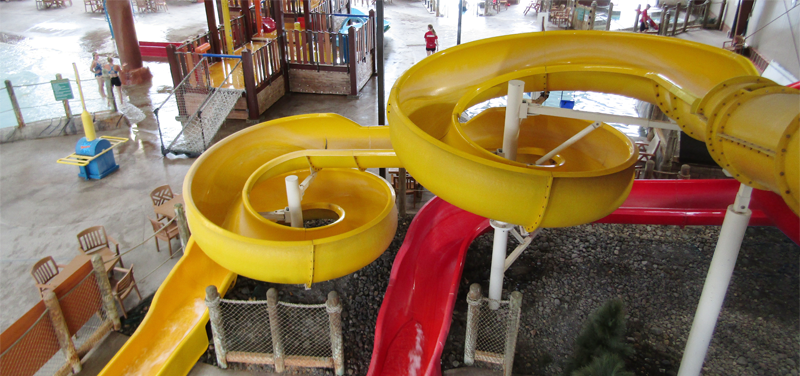 Interior Slides – Our two interior slides, labeled as Rapids 2 & 3, are over 100 ft. long and 2 stories high. These slides are designed for children and young adults 42-48″ tall and under 130 lbs.
Interior/Exterior Slides – The adventurous can take on our two 3-story enclosed slides, labeled as Rapids 4 & 5. Our body slide is 250 ft. long and goes outside the building before re-entering to splash down in a pool below. Alongside is the tube slide, which lets you ride a one or two-person tube. This ride also travels outside the building before landing in a pool back inside the Waterpark. You must be 48″ tall to ride either of these slides. Children and young adults 42-48″ tall may ride the tube slide if accompanied by an adult (18 yrs or older).
Big Bear Falls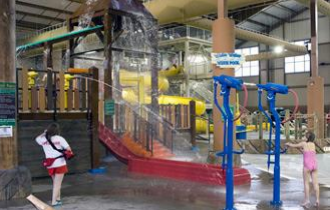 An interactive play structure, featuring a net climb, 4 water blasters, 2 slides, water jets, a 500 gallon, 360° deluge bucket, and much more! No age/height limit.
Little Bear Falls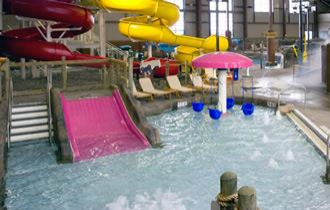 The little ones don't have to be worried about being left out of the fun! Little Bear Falls is designed specifically for small children, with 6″ – 12″ water depth, air and water bubbler features, a tiny tot's swing, and a kid-sized slide. Guests must be under 48″ to play.
The Cove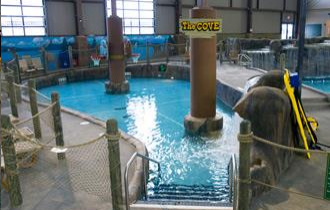 Our 22,000-gallon, 1,000 sq. ft. basketball cove is fed by a 9 ft. high waterfall, and features 2 custom themed basketball hoops!
Northwoods Pool and Hot Springs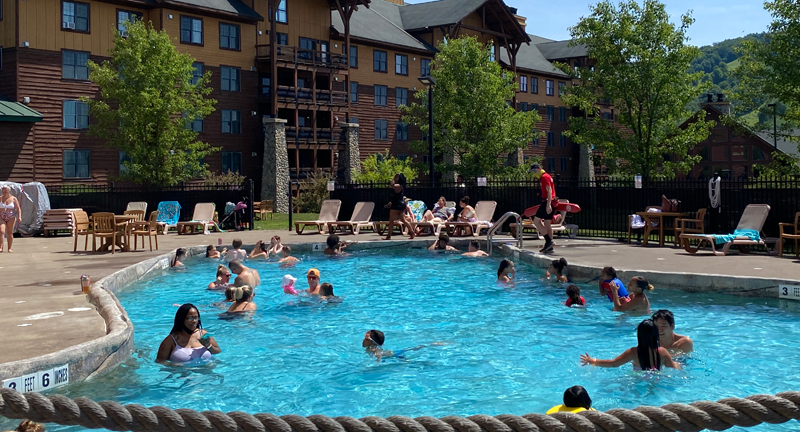 Northwoods Pool is our 1,500 sq. ft. outdoor swimming pool that is heated and open year round!* Swim laps, or just float along, no matter the season! Also, sit back and relax at Hot Springs, our large indoor/outdoor hot tubs. Featuring hydrotherapy jets and 100° water temperature, our hot tubs are perfect for unwinding after a fun-filled day on the slopes or after exploring all that the Finger Lakes has to offer (13 and over).
*Pool may be closed due to weather conditions such as low temperature, lightning, or strong wind.
Pricing, Promotions & Information
Waterpark Pricing
| | |
| --- | --- |
| Over 42″ | $37 |
| Under 42″ | $32 |
| Under 24 months | Free |
| Guardian (non-swimmer)* | $15 |
| Twilight (after 4pm) | $28 |
*Guardian passes are available for those wishing to visit with their party but will not be participating in the aquatic activities.
If a guardian changes their mind after purchasing, they can visit the ticketing counter with their wristband to be charged the difference and given a new wristband that allows aquatic participation. Wristband must be attached to the participant for verification.
All pricing is subject to change with or without notice. Prime pricing may be present during any holiday period. All passes will incur an 8% resort fee.
PROMOTIONS & SPECIALS
Promotions are not available on holidays and the associated holiday periods, or on any online sales.
BLACKOUT DATES:  October 6-9, 2023, November 23-26, 2023 & December 23-31, 2023, January 1-2, 2024, February 16-25, 2024 **
MONDAY MADNESS**
$5 off regular rate Waterpark Admission per person
TUESDAY BOGO**
Buy one get one 50% off regular rate Waterpark Admission
WEDNESDAY KIDS DAY**
Everyone is a kid on Wednesdays!
Kids aged 15 & under receive 50% off regular rate Waterpark Admission
Big Kids aged 16+ receive 25% off regular rate Waterpark Admission
THROWBACK THURSDAY**
Discount for each guest wearing Tie Dye
30% off regular rate Waterpark Admission
*Rates and offerings are subject to change without notice – Hours of Operation vary by season and thus, certain promotions may not be available*
**Holiday Periods = New Year's Day, MLK weekend, President's week, all Spring Break periods (dates vary annually), Memorial Day weekend, Labor Day weekend, Columbus Day weekend, Thanksgiving (Weds-Sun), Christmas week, New Year's eve & all associated holiday periods. Holidays include any dates during holiday seasons where the operating hours and days differ from the norm.
BEFORE YOUR VISIT
Daily Lockers: Daily lockers are available for rent in Starlight Arcade – ask a staff member upon checking in to the Waterpark! Fee applies.
Towels: We do our best to ensure one complimentary towel rental is available to each visitor. Additional towels can be rented for a fee at the Arcade counter. Bringing your own is always welcome!
Dining: Edgewater Café is located inside the Waterpark and offers an array of meals and snacks as well as a selection of adult beverages for those of age. Not satisfied? Located in the lobby of Hope Lake Lodge is Carver's Steakhouse. This is a family friendly sit-down environment to make sure your hunger is fulfilled. With this being said, please note that no outside food or beverage is allowed in the waterpark.
Accessibility: Here at Cascades Indoor Waterpark, we encourage guests of all abilities to join us in the family fun. Information about the ease of access to the indoor waterpark can be found on the New York State Inclusive Recreation Resource Center at inclusiverec.org. The facility does not offer a mechanical lift for entry/exit of any features but we do offer a zero entry wave pool.
Starlight Arcade: Starlight Arcade has a fun-filled environment that is great for children of all ages. We welcome you with over 35 games and countless rewarding prizes as well as our recently added card system! Starlight Arcade is a fun and exciting place to come after a long day at the waterpark or on the road, and features skeeball, Dance Dance Revolution, Basketball, Deal or No Deal, The Claw, and more.
Lifeguard Training: Staff training may occur at any time throughout your visit and will often begin unannounced. Please adhere to any requests of staff, supervisors and managers during these valuable training sessions.
Midweek Non-Holiday Operations: Cascades Indoor Waterpark is able to offer enjoyable experiences for you and your family and friends mid-week by operating features on a rotational basis. Daily promotional prices are available for visits during these non-holiday periods. The Waterpark will be fully operational on weekends & during holiday periods.