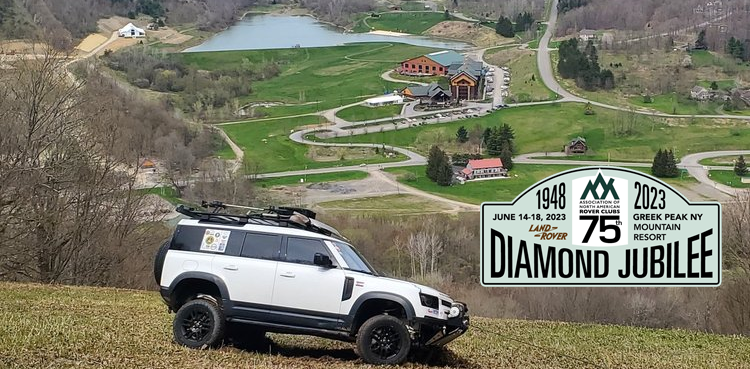 Land Rover Chooses Greek Peak Mountain Resort to Host 75th Anniversary Celebration
June 5, 2023
CORTLAND, New York (June 5, 2023) – The event planners for the Association of North American Rover Clubs (ANARC) were on site at Greek Peak Mountain Resort recently in preparation for the upcoming ANARC Diamond Jubilee, which will take place at Greek Peak June 14-18.
ANARC has invited enthusiasts from across the continent to celebrate their 75th anniversary with off-roading on the mountain, vendor exhibitions, a car show, special guests, and to take in all the amenities of the resort that Greek Peak offers its guests. Between 800-1,000 people are anticipated over the five-day event, culminating with the ANARC Cup competition, which involves rugged terrain vehicles (RTV) on multiple off-road courses, vehicle recovery, and a special scavenger hunt.
President of Greek Peak, Wes Kryger, said after months of planning and preparation to host the ANARC for this special event, he is looking forward to it becoming a reality. "For Land Rover to choose Greek Peak Mountain Resort to celebrate its 75th anniversary is an honor. We are thrilled to host a company of Land Rover's caliber and showcase the mountain and the entire resort to its legion of outdoor enthusiasts."
Greek Peak can host your corporate or group event, too. With 19,000 square feet of conference space, a 150-room hotel that features an indoor waterpark and spa, a brand new campground, and outdoor amenities galore, a mountain of memories awaits. Contact Kimberly Thayer, Director of Sales, for more information at kthayer@greekpeakmtnresort.com.